Push Win toys machine game plush toy vending machine
Game description:
1. Selfdeveloped machine with steady performance,
sticker and program can be made especially for customers;
2. The machine is easily controlled with LCD screen and mini keyboard,
visual adjustable function;
3. The machine has 36 partitions for laying prizes and the small partitions
can be changed to a big partition according to prize size;
4. Prize pay out rate for each partition is adjustable;
5. GSM module is optional. The quantity of inserted coins,
prize payout, machine alarm etc will be sent by SMS to cell phone;
6. Return Pirze ball mechanism is optional. The player could get a prize ball once
he fails to win the prize, or before every game,the machine could give one ball first,
then start game;
7. Bill acceptor is optional;
8. The machine have alarm device, once people shake the machine, even the prize drop down,
it will be confiscate by the machine;
9. The front gate of the machine is divided into two parts, which can be opened
separately for managing prizes and repair machines.;
10. There are tricolor lights in the prize area and bottom of the machine,
it makes the equipment dazzling and eye-catching;
11. The machine is the perfect combination of beauty and security;
compact appearance with highly transparent tempered glass;
12. Support the third party pay, Wechat pay, convenient to play;
13. Message device and consolation prize can be available.
Product details
| | |
| --- | --- |
| Product name | Push Win toys machine game plush toy vending machine |
| MOQ | 1 set |
| Voltage | 220V |
| Power | 250W |
| Weight | 125KG |
| Warranty | 12 months Warranty and life time technology support |
| Size | L1000*W900*H1830 MM |
| Place of origin | Guangzhou, China |
| Player | 1 player |
How To Play:
1. Insert coin and into the game.
2. Move the joystick to control the push rod and make it in line with the gift you like.
3. Keep pressing on the button "UP" and the push rod will be rising.
4. Release "UP" button once the push rod comes to the gift. If it is done at right time,
the gift will be hit and falls off. You win it!
Images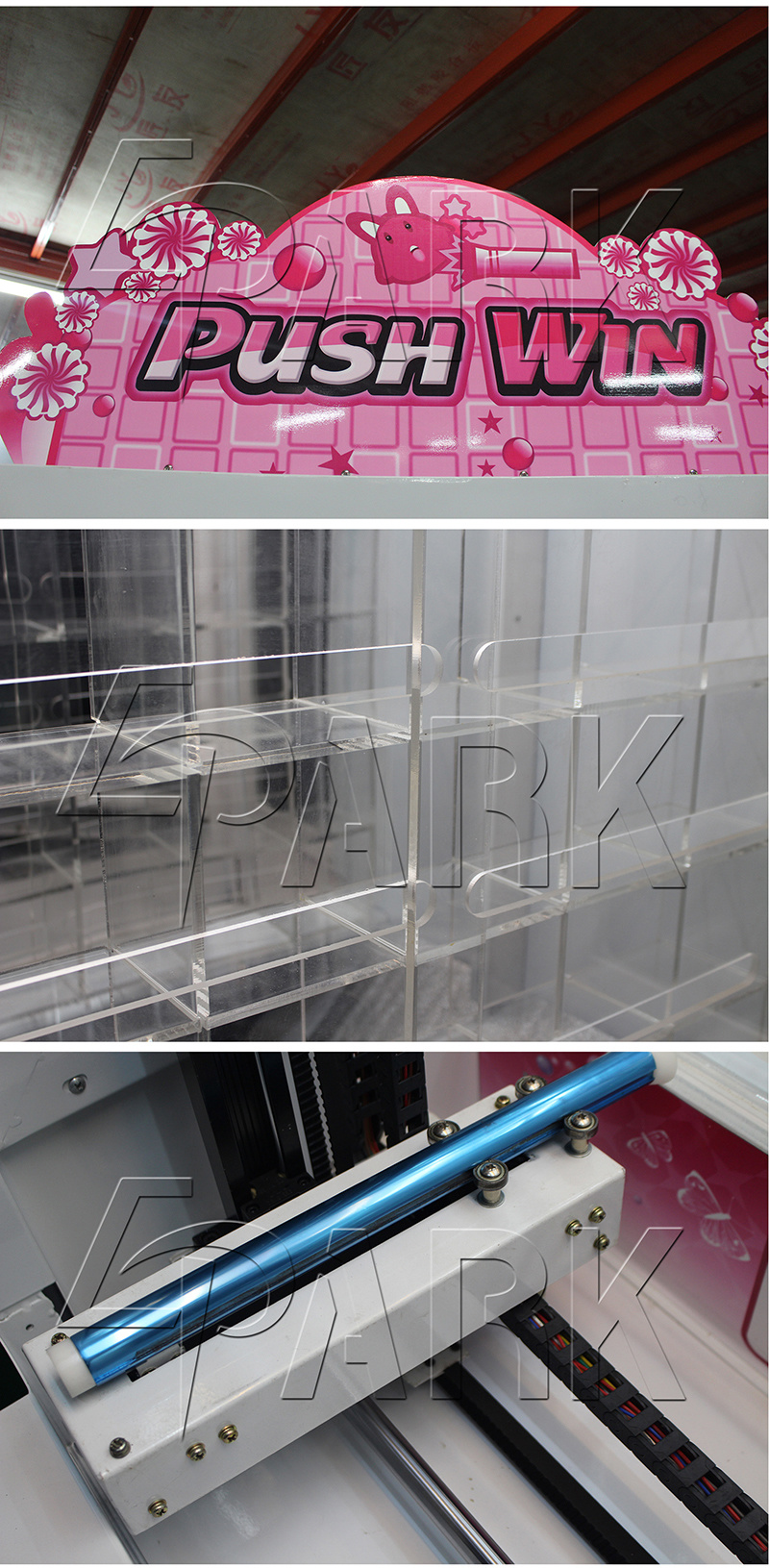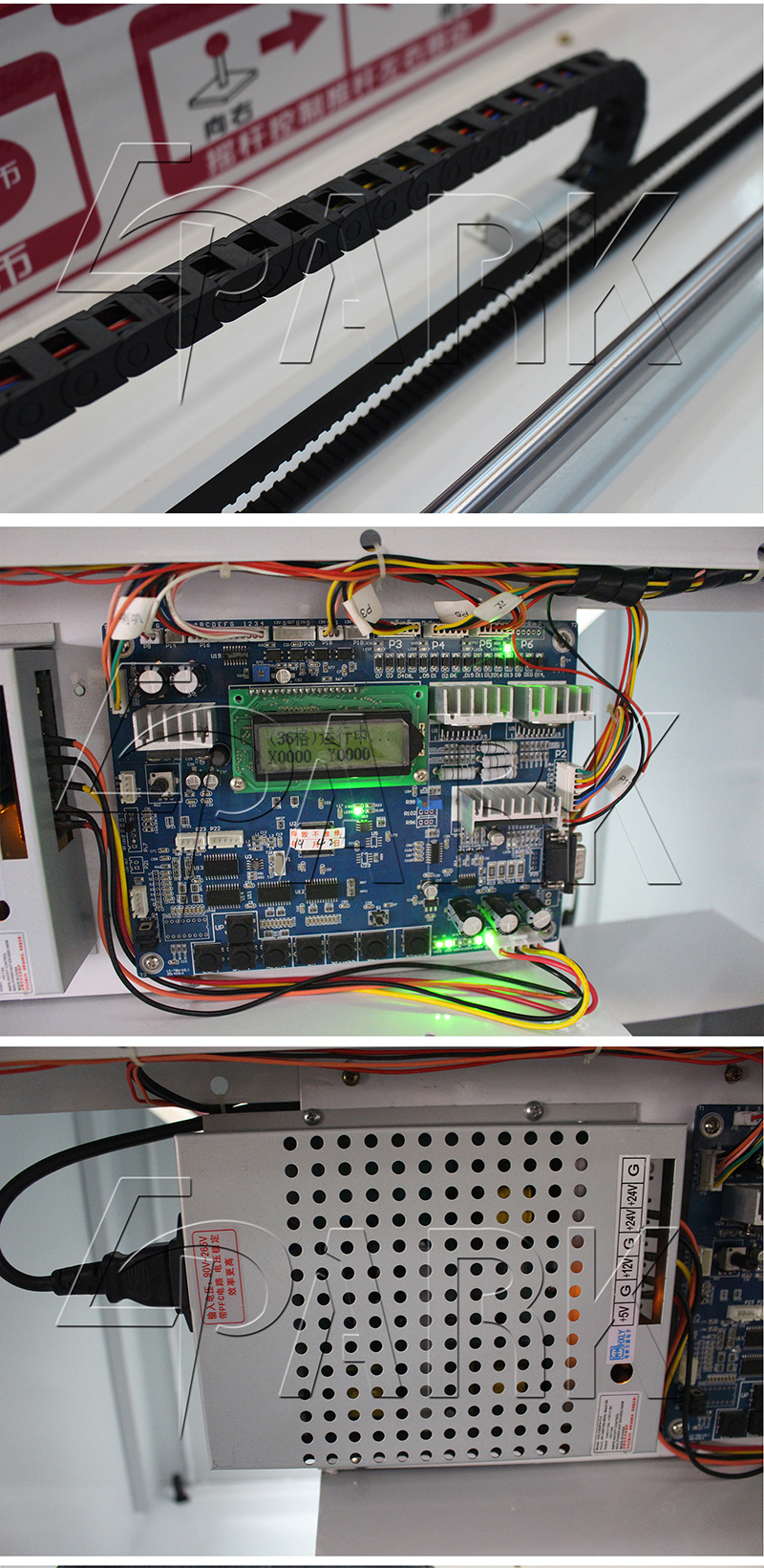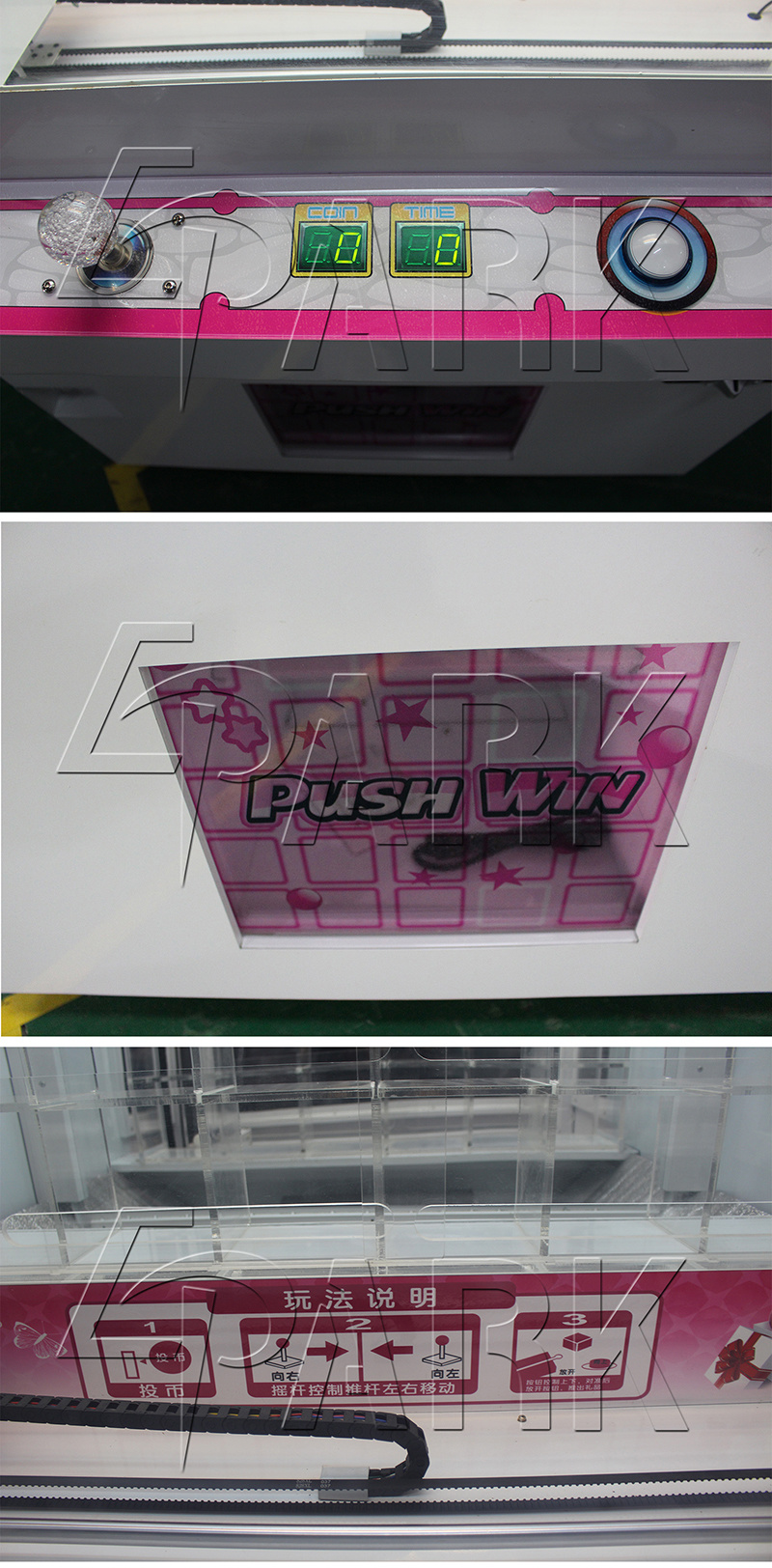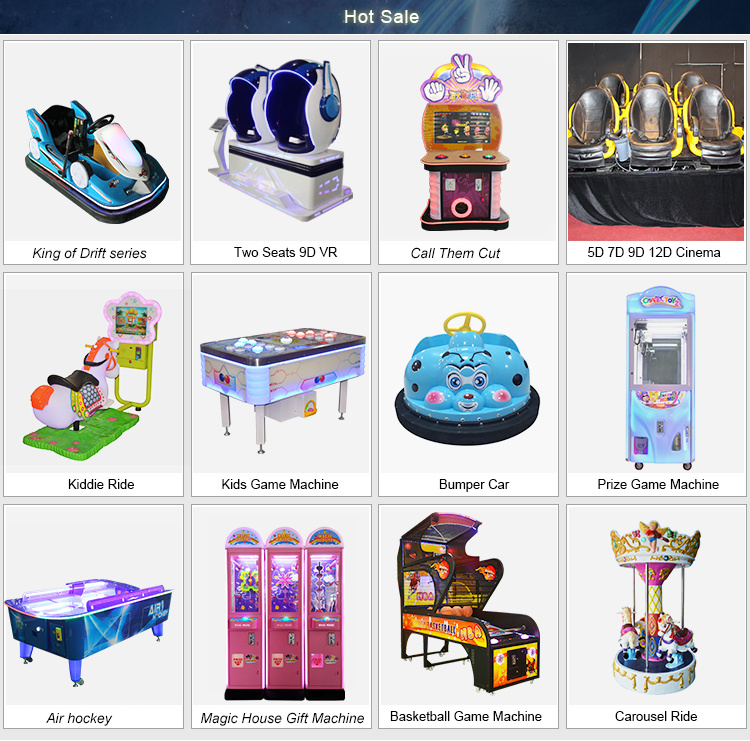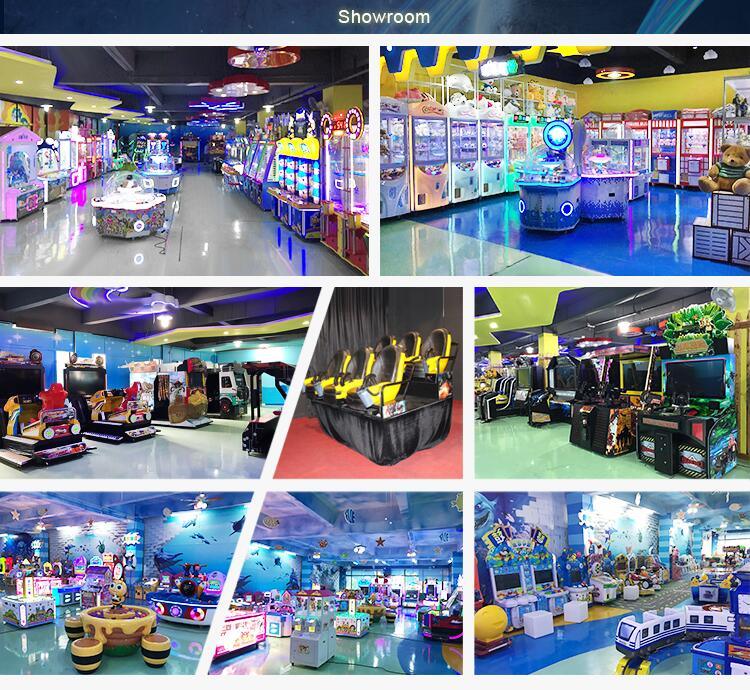 Our Advantages

1. Diversified Products Line To Meet Different Requirement
2. We Have Our Own Brand Epark
3. Over 10 Years' Manufacturing Experience In Electronical Product And Game Machine Equipment Industry
4. It Is One Of The Largest 9d Vr And Manufacturers In Guangzhou With Factory Occupancy Area About 2000 Square Meters
5. Professional Team Offers Technical Support To Customers
6. Our Technicians Go To Different Countries To Help Customers Solve Problems Of Their Game City And Amusement Park
7. Feedback The Marketing Information To The Customers
8. Well Decorated Showroom Is Waiting For Your Experience


EPARK Believe

1. Great Quality
Quality Is The Soul Of EPARK, We Believe That The Only Good Quality Can Be Based On The Future .
EPAKR Constantly To Meet International Quality Requirements , In Order To Meet The Requirements Of Customers .
2. Great Service
We Remind All Employees To Focus On Services , Each Customer As Its Own Family .
3. Great Reputation
Only Keep Good Business Reputation To Establish a Long - Term Cooperation Relationship ,
EPARK Insisted On From The Start Bit By Bit , Let EPARK Brand Known The World .
Our Main Products

1. Car Racing Game Machine: Like Outrun , Initial D5 ,Initial D6 , Hummer , Need For Speed , 3D Sonic and so on .
2. Moto Racing Game Machine: Like GP Moto4 , TT Moto, Attack Moto, Harley Motor , FF Motor ,Lucky Motor , Kids Motor and so on .
3. Shooting Game Machine : Like Aliens , Let's go jungle , Time Crisis , Rambo , Ghost Squad , Razing Storm , Pirate Adventure , House of Dead 4 and so on
4. Amusement Game Machine : Kindly check our website for more details .
5. Redemption / Lottery / Ticket Game Machine : We have a lot of items for options , pls kindly check our website .
6. Fighting Game Machine with Tekken , Street Fighter , King of Fighter main board .
7. Toy / Crane / Gift / Vending Game Machine: Kindly check our website for more items list .
8. Kiddie Ride & Walking Animal
9. Music & Dancing Game Machine
10. Sport Game Machine like air hockey, boxing game machine , football game machine and so on .
11. Pinball game machine
12. Game Accessories , like buttons , joystick , mainboard , power box and so on .
13. 9D VR , HTC VIVE VR Equipment
14. 5D / 6D / 7D cinema
15. Playground for kids